I hope those of you in the U.S. enjoyed a wonderful Thanksgiving holiday last week. S wasn't feeling well, so we spent most of our long weekend at home relaxing quietly. I read an entire book (We Are All Completely Beside Ourselves by Karen Joy Fowler) in one day, which is something I rarely have time to do anymore. It was a wonderful break. And thank you all for your enthusiasm over our big sale! It really helps us to occasionally clear out a little space in our warehouse so we can produce new patterns. We've got so many fun and exciting things in the works for you next spring.
Now that everyone is in full holiday preparation mode I thought it would be a perfect time to give you an early holiday gift! Last December at our house we had a little last-minute wardrobe crisis in which I learned, two days before a chorus performance, that S needed a black skirt and white blouse. With those little surprises in mind I thought you might like a simple holiday skirt that can be completed in a very short period of time (much less than two days!) with minimal materials. So here it is. Our version of the Lazy Days skirt for fancier occasion. In honor of its origin, we've called it the Onstage Tutu Skirt.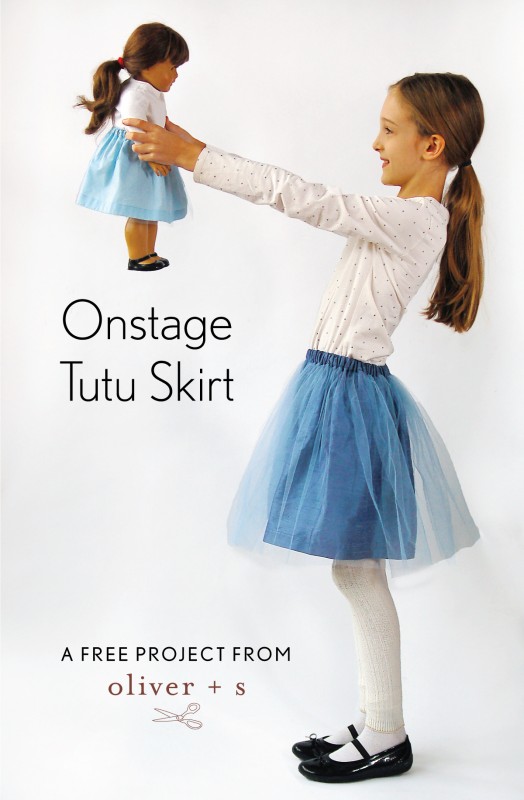 This is a very simple and fast project. My goal was to sew the skirt with a minimum of seams, and I wanted to eliminate any extra bulk at the waistband. You'll see how I accomplished that when you read the instructions. The waistband construction also prevents the tulle from getting itchy at the waist. And you'll need only a few supplies: a little fabric, a little tulle, elastic, and thread. This is a great project for leftover fabric from other projects.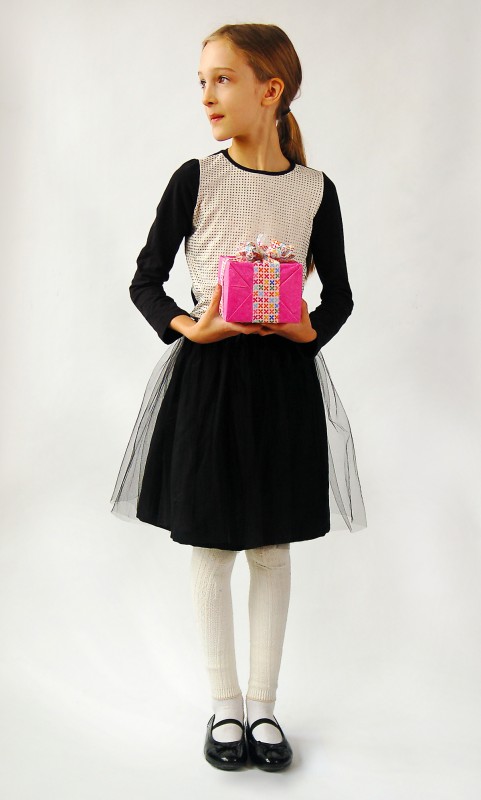 And of course it's a great project for girls who want to match their dolls. Instructions for the doll skirt are included in the regular instructions. Stocking stuffer, anyone?
The instructions call for a single layer of tulle, but feel free to use two layers if you're going for a super-fancy tutu skirt. I think this could be really cute with flocked or sparkle tulle, too!
As far as styling it, I like this skirt with blouses and sweaters for parties (and chorus performances, ahem), but it's also really cute more casually for everyday wear. J. Crew has been showing a similar style (albeit with a more traditional and bulkier waistband) with sneakers and sweatshirts. Really, really cute. I've added some images to my Customizing with Oliver + S Pinterest board to help inspire you.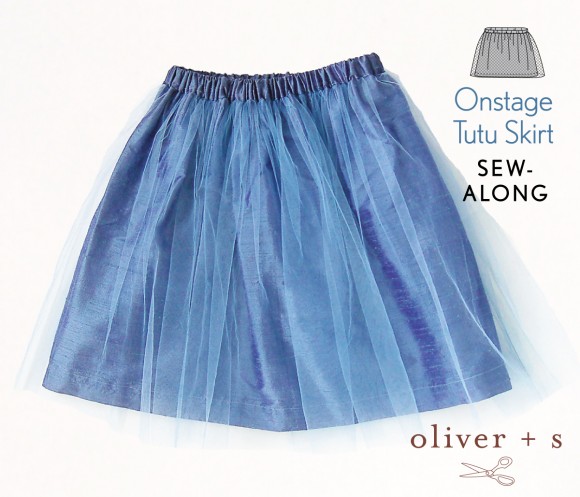 I hope you'll get lots of use out of this pattern! Since it's designed to be a last-minute project, I thought we'd do a quick sew-along in case you need to refer to it sometime this month. The sew-along will start tomorrow, but don't worry if you're not ready yet. It will still be there when you need it–a few hours before that big concert, perhaps? Rachel will get you started tomorrow, and we'll finish it up on Thursday. So you'll be ready for anything this season.
You can download your copy of the Onstage Tutu Skirt from the free patterns section of our website.