If you haven't had a chance yet to sew a pair of Girl Friday or Lunch Box Culottes that you've always wanted to, here is your opportunity to get some done! We're hosting a Girl Friday/Lunch Box Culottes Sew-Along next month.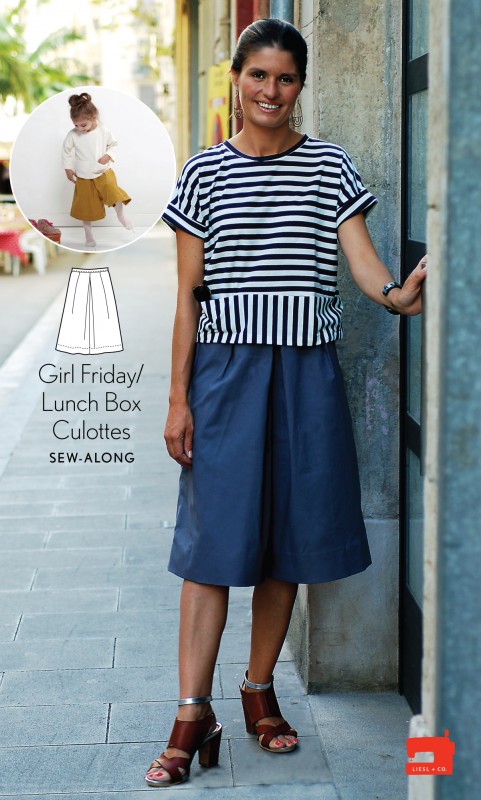 Today we're introducing the sew-along. We'll cover the fabric and supplies you'll need to make your culottes. After that, you'll have some time to buy your pattern and all of the supplies you might need before we kick off the project.
Culottes description:
Girl Friday: You'll love the versatility of these wide, pleated culottes. Dressy enough to wear to work as a full skirt yet comfy enough for a day of running errands in town, these flattering pants can even be worn for more recreational activities like biking and hiking. Featuring front and back inverted box pleats, plus front pleats and back darts, these culottes aren't short on style. They are designed to be mid-length but can be lengthened or shortened as desired. They also include a button or hook and eye at the waistband, hidden side pockets, and a side zipper. But relax, these impressive details are a cinch to sew.
Lunch Box: Girl's split skirt. This pattern features wide, pleated culottes that look like a full skirt but are more versatile. They can be worn for a wide range of activities from biking to turning flips on the monkey bars. Pull-on styling includes front and back inverted box pleats, back elastic, and hidden side pockets.
Suggested fabrics:
Girl Friday: Depending on the look you want to create, this pattern is suitable for soft fabrics like double gauze, lawn, and voile, or more crisp fabrics like linen, twill, broadcloth, denim, chambray, gabardine, and even fine-wale corduroy.
Lunch Box: Light- to medium-weight woven fabrics like quilting cotton, broadcloth, chambray, denim, fine-wale corduroy, twill, gabardine, and linen.
Notions:
Girl Friday: Coordinating thread, 7″ zipper, lightweight fusible interfacing for waistband (woven interfacing is best), one 1/2″ button or large hook and eye.
Lunch Box: Coordinating thread, lightweight fusible interfacing, approximately 18″ of 3/4″ elastic.
Before starting the sew-along:
Buy your pattern
Determine what size to make
Purchase your fabric (wash, dry, and iron it)
Get pattern pieces ready
Cut fabric and transfer markings
Review instructions
Girl Friday/Lunch Box Culottes sew-along schedule
Day 1: stitch the darts, assemble the culottes, and make the pleats
Day 2: attach the pockets, insert the zipper, stitch the side seams, and finish the pockets
Day 3: attach the waistband and finish the culottes
We do hope you will participate.
Feel free to grab this optional badge for your blog to show your participation.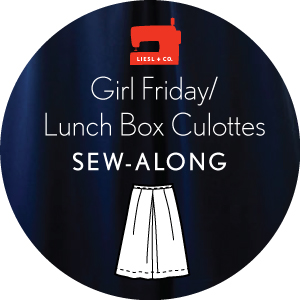 Gather your pattern, fabric, and supplies and we will see you here on Tuesday January 6th!
We can't wait to see what you create! Be sure to add your completed Girl Friday culottes to the Liesl + Co. Patterns Flickr group and Lunch Box culottes to the Oliver + S Patterns Flickr group.
So, who's in?