Since many of you are starting to sew more for yourselves, I know you're also making more muslins so you can adjust the fit of each pattern for your own body. Here are my top 15 tips to help you along!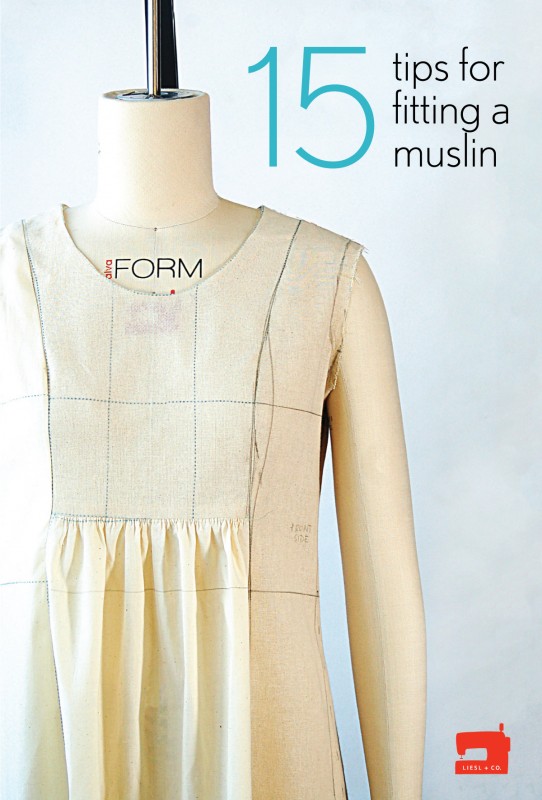 Use cheap, somewhat stiff muslin. No need to splurge on the quilt quality at the fabric store. It's easier to see fit with a muslin if the fabric isn't too drapey and soft. Look for something that's a bit stiff, and don't pre-wash your fabric. I buy my muslin by the bolt at Steinlauf and Stoller here in New York. It's very inexpensive and it's nothing you'd want to wear in real life.
Select the proper size based on your shoulders and high bust. The full bust and all the other parts of the pattern can be adjusted much more easily than the shoulders and high bust, so focus on the shoulders and high bust to get the right size and you'll spend much less time fiddling with the fit. See this post for additional information.
Once you've traced or cut out your paper pattern, draw in all the pattern's seam lines using a 6″ ruler.
If you already know you need to do a full-bust adjustment (FBA) or make other changes to the pattern, make that  change before you cut out your muslin. If you aren't sure, check the measurement charts to help you get a sense for how the pattern differs from your body. See this post for additional information.
If you know you'll need extra room in one area (the waistline, for example), leave extra seam allowances in that area so you can easily let out the muslin. Here's a post to help you with blending between sizes if you already know you'll need extra room in places.
Skip facings and linings and simply fold under the seam allowances at necklines and collars. This will make it easier to check and alter the neckline and will also save you time and effort when making the muslin.
Use carbon paper and a tracing wheel to transfer the seamlines from the paper pattern to the right side of your muslin. That way you can easily see where the original seam lines were when you make changes to the muslin.
Baste together all the major pattern pieces in muslin and press the seam allowances as you would with the full garment. With a well-pressed muslin it will be much easier to see the fit.
Wear well-fitting undergarments. It's preferable to wear the same underpinnings you'll be wearing when you wear the finished garment.
Ask someone to take a photo of you from all sides. Be sure you have good lighting. (Natural daylight is best). You can often see problems more easily in a photo, and you might notice things you wouldn't otherwise see in a mirror. I find that photos help me to take a very different look at a garment, so I make a regular practice of this when I'm working with fit.
Look at every aspect of the garment, starting at the shoulders and working your way down. Look for drag lines (folds) in the fabric, which will often point to the area that needs adjusting. Remember to check the hem length, too!
If you're sewing for yourself, it's helpful to work with a friend who sews. It's easier to fit another body rather than your own. If you're working alone, make adjustments gradually and try on the garment after each change.
Get yourself a copy of the book Fit for Real People, which covers fit in a very understandable and comprehensive manner. This is such a useful reference tool, and you'll refer to it again and again if you sew for yourself or for someone else.
Remember that ease is your friend! Every garment should have some room for movement built in, and some garments have additional design ease. Refer to this post for more information on ease.
Once you've made alterations to the muslin, transfer your changes back to the pattern. Refer to the original carboned seam lines to help you make the changes to the paper pattern. If the changes are substantial, you may want to take apart the muslin and make a new pattern, tracing the pressed muslin pieces onto a new piece of paper.
I hope these tips help!