Today we welcome Kim Andersson who is going to tell us a bit about her first fabric collection Tidal Lace. Be sure to follow the Tidal Lace Blog Hop that they are doing in September starting at Windham Fabrics. Please note that the fabrics will not be out in the shops until January 2015. Kim is even hosting a generous give-away of her fabrics! Read on for details. Here's Kim.
I'm very excited to introduce you to my first fabric collection for Windham Fabrics, TIDAL LACE! I also can't wait to show you the gorgeous clothes that we made for the look book using Oliver + S patterns.

Credit: Tidal Lace Fat Quarters.
With thoughts of Summer's past and present the inspiration for the TIDAL LACE collection comes from two very different experiences in my life.
The first experience comes from my Grandmother's ballet shop, where as a child I would play with the many lengths of trim and lace for hours and hours, immersed in their pattern and detail.
The second inspiration, to use tide pools in my collection, came from a family trip that we took to a lovely coastal town. Waking up early for the low tide and still quite sleepy, we were greeted by the wonder of the tide pools. We spent a wonderful morning with friends and family looking from pool to pool to see what we could spy–0ne person pointing out what another might have otherwise missed.
TIDAL LACE, is my imagining of lace and the tide pools woven together, full of fascinating details and bursting with color and life.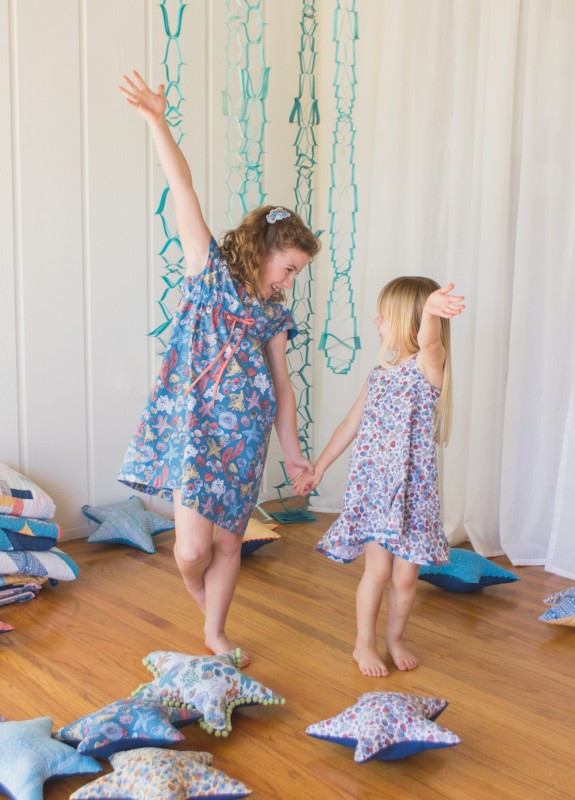 Credits: Girl on left wears Roller Skate Dress, Girl on right wears Pinwheel Slip Dress. Sewn by Danielle Collins. Photo by Danielle Collins.
I've loved Oliver + S patterns for ages. When my fabric arrived, we couldn't wait to see how they would look when made in the beautiful Oliver + S patterns. We just love the detail that Liesl puts into her designs that make them really something special.
Honing the projects down to just a few was going to be the hard part, there are so many wonderful Oliver + S choices! Once we had finally made our pattern selections, we had much fun playing with the fabric collection and seeing how they looked in the fabulous Oliver + S patterns.
The patterns that we chose for the TIDAL LACE look book were:
The Puppet Show shorts, such cute shaped shorts with the sweetest gathered pockets! We teamed it with the Badminton top, and I'm obsessed with those shoulder ruffles! As you can see Oliver + S separates mix so well.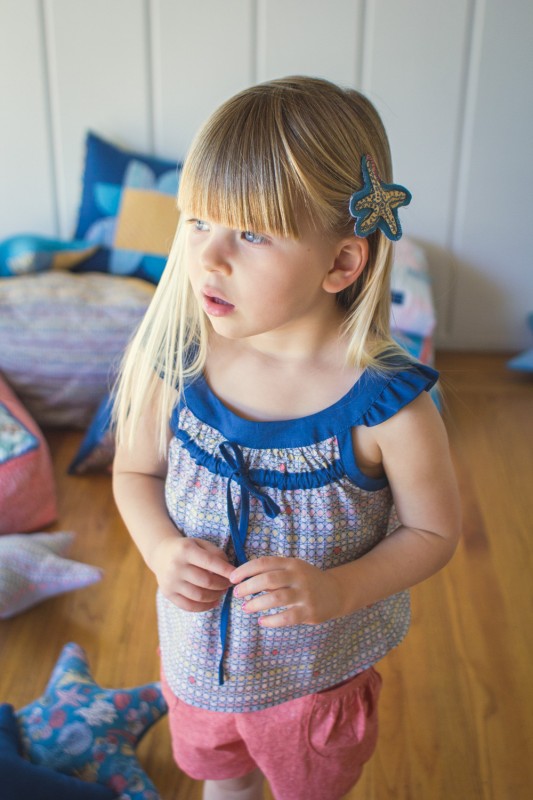 Credits: Badminton Top teamed with Puppet Show shorts. Sewn by Danielle Collins. Photo by Danielle Collins.
We selected two dresses for the girls, the Pinwheel Slip Dress with it's fun flounce and the Roller Skate Dress which is a fantastic staple dress, fun and sophisticated at the same time. (I want one in my size, please Liesl?)

Credits: Girl on left wears Roller Skate Dress, Girl on right wears Pinwheel Slip Dress. Sewn by Danielle Collins. Photo by Danielle Collins.
We also made the Oliver + S Reversible Bucket Hat and they were a favorite too. I started making one and just had to make more! Oliver + S patterns really are gorgeous. We love them, the kids love them and just as importantly they were fun to wear.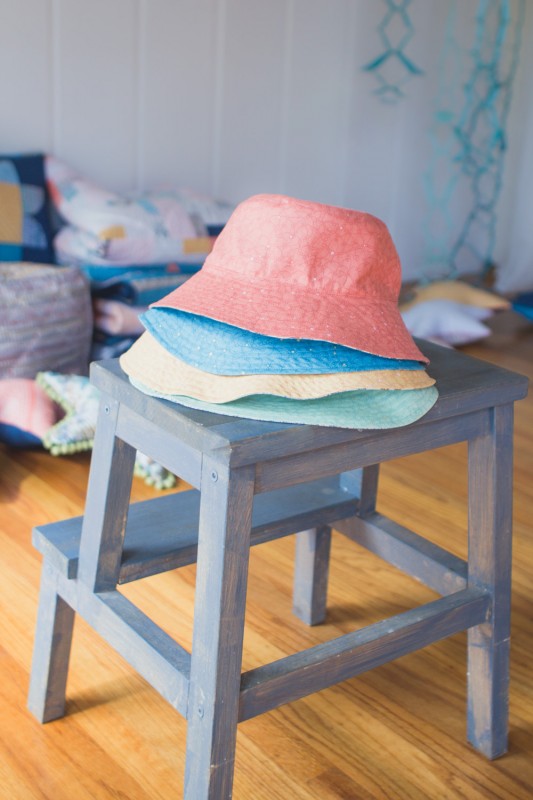 Credits: Reversible Bucket Hat, sewn by Kim Andersson. Down By The Sea Quilt by Stacey Day. Photo by Danielle Collins.
I hope that you can also dive into a place full of wonder and delight with TIDAL LACE. The collection includes wonderfully detailed novelties and geos with a color palette to make your projects shine. My inspiration from intricate lace and tide pool life weave together to create images that are joyful and enchanting.
Due to land at your local fabric shop in January 2015!

Credit: Photo by Danielle Collins.
We are giving away two yards of fabric (winners choice) for you to whip up your favorite Oliver + S ensembles! To enter, leave a comment below telling us your favorite thing(s) about the sea or about lace. Comments will close at 9:00 AM ET Friday, August 15, 2014, and we'll select a winner at random. The winner will be notified by email. We're only able to ship to addresses in the United States, so entry is limited to US residents.
To see more of Kim Andersson's Tidal Lace please visit the I Adore Pattern blog and see the complete collection of photos and fabrics at Windham Fabrics.