We seem to have found a rhythm for our pattern collections. Every year, among all the styles we produce, we do one boy's/unisex pattern, and there's always one fancy dress and one casual dress. Have you noticed that? Anyway, we were due for another fancy dress, especially since you all liked the Fairy Tale Dress so well.
As it happened, right around the time I was starting to design this collection I had a conversation with a friend about popular sewing patterns. We were remembering the old Sugar City Village Frock and how popular it was. (Do you remember that pattern? So cute.) As we talked, I started thinking about shirring and how I don't use it very much. And since I'm not really a ruffly designer, it made sense to try shirring in a dress design. And since so many of you seem to be interested in smocking, I wanted something that might appeal to the smockers too. More on that later.
Enter the Croquet Dress. The Croquet Dress? Yes, the Croquet Dress. Do you recognize it in the lines of the new Garden Party Dress?
We started with the Croquet Dress pattern for this design. Very similar shoulders and front yoke. The back bodice has the same keyhole notch. But then we started making changes: shirring across the front bodice, a waistband to hold all the shirring in place, and gathered sleeves to compliment the shirring.
This dress looks more complicated than it actually is. I feel like I say that a lot. Seriously, don't let this style intimidate you. It's a fancy dress, but the shirring is straightforward (if you've made ruffles or gathers, you can do shirring; it's the same thing) and the construction itself is simple. No zippers. It doesn't even have buttonholes! Just a thread chain for the back button at the keyhole opening. And we walk you through that easily, although I like how Kristin handled her thread chain, too. (And didn't her version of this pattern turn out beautifully?)
The pattern also includes instructions for making the sleeveless blouse. I think this is so cute worn with a skirt or skinny jeans.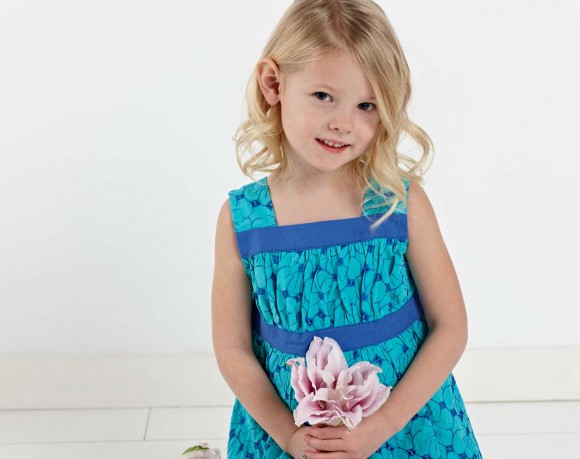 I really wanted to make sure these patterns were available for you as soon as possible, because I'm thinking Easter dresses. You too?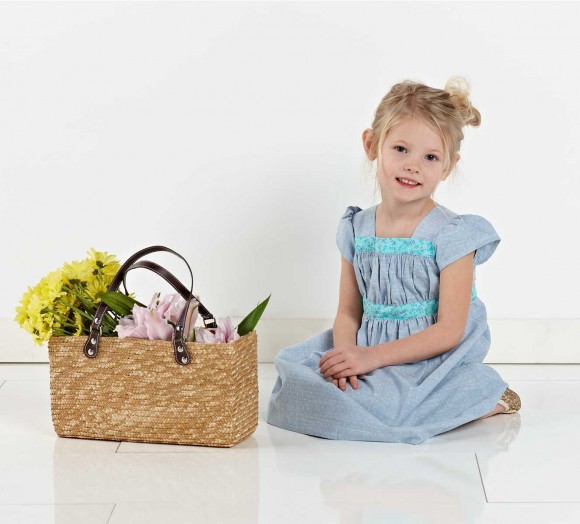 When S saw this dress design, she immediately said it looks like Liesl's dress in The Sound of Music, which we watch on a regular basis. So maybe that inspired me too, subconsciously? I guess it would make sense. I mean, I've always identified with Liesl. But wouldn't this pattern be beautiful in chiffon, like Liesl's?
I can't wait to see what you make with it. You can get the pattern now (in plenty of time for Easter sewing) in both paper and digital format.