It's day two of raglan week! Here's another easy alteration to make to the raglan T-shirt pattern: turn it into a sweet peplum top!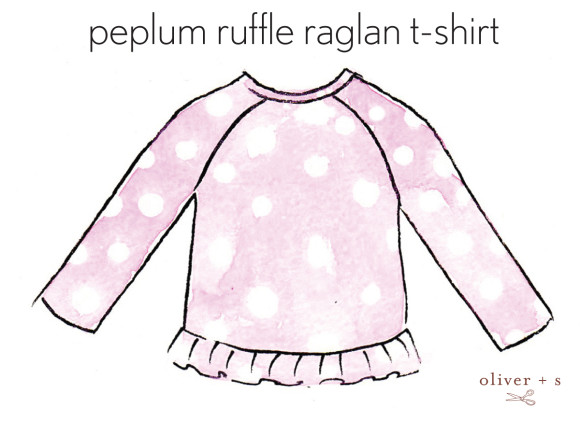 The ruffle of a peplum can be short or long, but proportion is key. In general with most peplums, you want the top of the ruffle to start at or just above the waist. Look for the natural waist, which is that narrow spot just below the rib cage. (If you sing "I'm a Little Teapot" and tip to the side, the bendy spot on your side is your natural waist. This is especially helpful with kids who have little bellies.) But for shorter peplums that look more like a little ruffle at the hem, a boxy style is cute, and the top of the peplum can start just below the waistline.
Here's how you go about doing it.
To make this customization, you'll find the natural waist and mark the top of your peplum placement. Add 1/4″ – 1/2″ for seam allowance and cut the T-shirt at this level.
For the ruffle itself, I like to make it about 175% the width of the T-shirt width, but anything between 150%-200% will look good. Add seam allowance and hem to the height of the ruffle, and add the ruffle (sewn into a tube with gathering stitches at the top edge) to the T-shirt after the side seams have been sewn. You can see in this mini pattern how I removed the bottom portion of the original T-shirt pattern and replaced it with a ruffle that's about twice as wide as the original pattern piece. Cut two: one for front and one for back.
You can also hem the ruffle before gathering it, since it's much easier sew the hem when the fabric is still flat, before it's all gathered up.
Here are a couple of styling ideas for peplum T-shirts, to help get your creative juices flowing:
And it would be really cute to try pleating the ruffle instead of gathering it. The pleats wouldn't have to be perfectly even to be cute, so don't get too worried about that.
Anyone making this one? I'll show you the peplum I made for S tomorrow when I explain how to change the pattern to make short sleeves.