I know Halloween already feels like it was ages ago, and we're all turning our thoughts and sewing energy toward Thanksgiving (in the U.S., anyway) and Christmas as fast as we can. But yesterday I was scrolling through the Flickr group and was just so amazed at some of the costumes you made, I thought it was important that we ooh and aah over them one more time. So much creativity! So much hard work! Truly impressive. Here's a quick wrap-up of just a few of the amazing costumes that caught my eye.
Some of the costumes are relatively simple and quick to make, and are still incredibly cute and clever. This simple but clever approach appeals to me, with my minimal time to sew for fun these days. For example, check out Max and Ruby in their Cozy Bear Hoods from Little Things to Sew! They're so adorable.
The Cozy Bear Hood has been an especially popular pattern for costumes since it can be customized in so many ways. You'll see it show up in a lot of Halloween costumes and with a lot of different personalities. For example, here it is in the form of a fierce saber tooth tiger on the prowl.
Here are some more Cozy Bear Hoods atop a cuddly cat and mouse. So, so sweet! (I hope that mouse got away! She looks a little worried.)
Sweet little Dorothy, on the other hand, is wearing a darling dress modified from the Tea Party Sundress pattern. She'll be able to wear this after Halloween, too, don't you think?
And here's a Library Dress made into a costume. I'm not familiar with Miss Mush, but I can already tell I like her!
Meanwhile, these little girls had one busy grandma! All three dresses were made using the Fairy Tale Dress pattern. Amazing, yes? Donna, who sewed these dresses, told me she got the ideas for the costumes from makeit-loveit.com.
Speaking of costumes for many kids, wow! Peter Pan and crew, all wearing custom-sewn costumes. I'm exhausted just thinking about all that sewing. But they look fantastic, don't they?
The Red Riding Hood cape from Little Things to Sew is another pattern that's been really popular for Halloween costumes. Here it is in the form of glorious birds with colorful feathers. So, so pretty. Kathy, who sewed these cape for her daughters, told me that the costumes were inspired by the band costumes in Zurich carnival parades.
And here's a really impressive costume that takes Red Riding Hood to a new level. I think the word for this costume is "enchanted," yes?
And speaking of enchanted, check out Little Bow Peep and her little sheep. I mean, wow! Giulia, our beloved resident costume-making expert (truly, she's an expert!) saw this photo and was so, so impressed.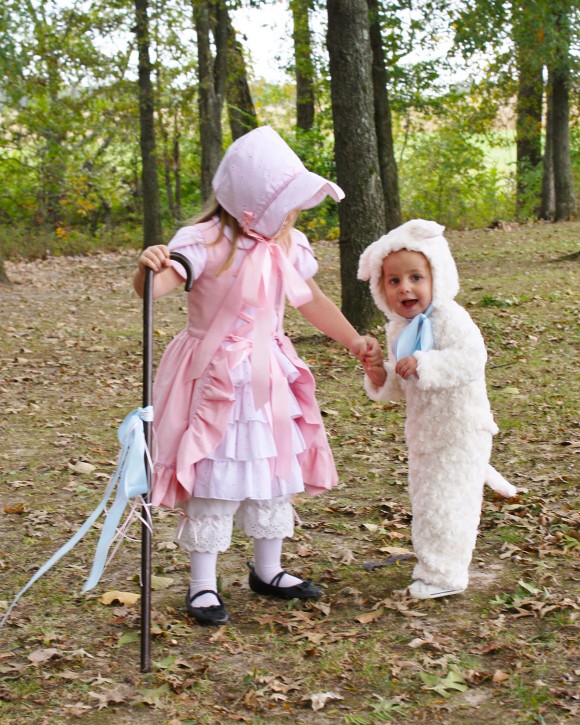 And speaking of Giulia, when I pressed her for details about her own children's costumes she finally relented and showed me this darling shark costume she sewed for her son. Yup, that's the Cozy Bear Hood from Little Things to Sew again, this time as the shark's head with sharp teeth. Giulia made up the rest of the costume on the fly, more or less. She's amazing that way.
One last costume, because I love it so much. Sarvi sewed her daughter a Paddington Bear duffle coat for the cutest costume ever! I was obsessed with Paddington when I was little, and I think this is genius with the appliqued tag on the School Days Coat, the Cozy Bear Hood, and even Paddington's hat made from from the Bucket Hat pattern in Little Things to Sew.
Thank you so much to everyone who shared their photos with us! And be sure to look at the Flickr group for many, many more amazing costumes. I wish I could include them all. Do you have a favorite?