Yesterday when we introduced our new women's patterns I mentioned that I want to tell you about each of them in greater detail. So let's start with the Everyday Skirt, shall we?
When we release new Oliver + S patterns each season, we hear from many of you who say, "I want to make that for myself!" And I think you're right that a surprising number of our patterns would translate well into women's apparel–but only with some changes.
Take our free Lazy Days Skirt pattern, for example. It's such an easy, relaxed, appealing style for kids. But if you tried to make it for yourself you would notice that it's not as flattering on a woman's body as it is on a kid's. But the Everyday Skirt is like a grown-up version of the Lazy Days Skirt. We made some changes so it would be more appropriate for women's bodies, and the pattern still retains that easy, relaxed feeling as the Lazy Days Skirt but now it also looks good on you, too!
Here's what we did: we gave this skirt a proper flat front waistband to keep the waist smooth and to give you a smooth line. There's a small amount of gathering at the waist, but it's not terribly full so it doesn't add a lot of volume. We also added a smooth side panel, since that also helps to give a smooth silhouette and doesn't add bulk at your hips (because who needs extra width there?). And of course we all want pockets, so there are some really useful front pockets that are nearly invisible and are extremely easy to sew.
Of course it's nice to avoid buttons and zippers when possible (especially since this is supposed to be an easy skirt that can be sewn by beginners, so we don't want anyone getting stressed out over closures), so the back waistband is elastic to allow you to pull the skirt on and off. There are two elastic casings that help to keep the back waist flat and keep the skirt feeling really comfortable and easy to wear. When it's all finished, the result is a nice-looking, polished skirt that's also very comfortable and surprisingly quick and easy to sew. Really quick and easy!
For this black and white wool plaid version of the skirt we cut the side panels on bias, just for the fun of it, and I think it turned out great!
And I don't know what I'd do without a chambray skirt. I wear them all year round. It's the skirt equivalent of blue jeans, I guess.
So what can you do with this pattern? Well, obviously it works really well with lots of different fabrics. Since we're releasing the pattern in the fall, we made it in wool for the photo shoot. I've been wearing it with tights and boots, with flats, booties, sweaters, blouses, and jackets. It's so versatile! Black and white checks and plaids are especially popular this year, and this skirt has been especially fun to wear already this fall. I think I could wear this skirt every day, styled differently each time I wore it. Here are a few styling ideas, some of which are similar to how we styled it for our photo shoot. (I went a little overboard with Polyvore because it was so much fun to show different ways to wear this skirt.)
A morning in Central Park:
Autumn color tour:
Date night:
An afternoon at the movies:
And for spring and summer? Prints of all sorts, just like the Lazy Days Skirt. I'm waiting for a floral cotton to arrive so I can make it up, and I'll be wearing that skirt year-round, but especially in the spring and summer. I also made the skirt in linen and wore it all last summer. And we made it in this polka dot Japanese double gauze, which is completely adorable. In summer you'll be able to wear this skirt with a T-shirt or little blouse and sandals for a really comfortable, easy summer look.
Summer style: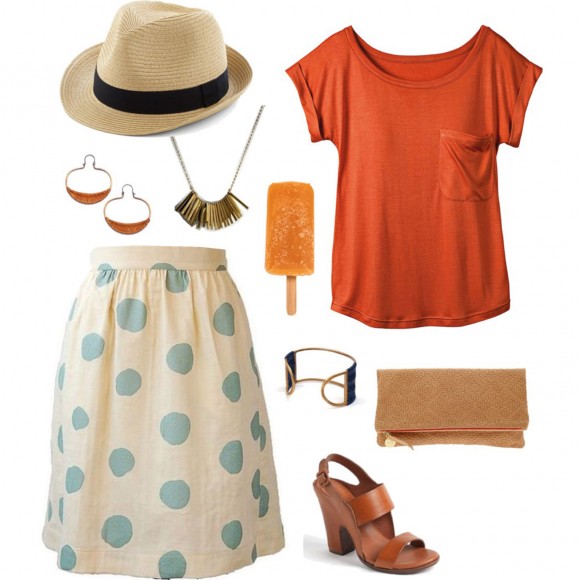 Relaxed breakfast:
I think you're going to have fun with this pattern! I can't wait to see what you do with it and how you style it up.
You can get your copy of the Everyday Skirt pattern now in the Oliver + S shop.