Today I'm happy to welcome Rachel from Nest Full of Eggs to the blog with a great tutorial for you. You remember Rachel, right? We featured her color blocked Roller Skate Dresses a while ago. She has been busy (and I mean busy…) over the last year sewing Fairy Tale Dresses. And to celebrate her 10th one, she's made a special 10 Stripes version of the dress. She's here today to show you how to do it yourself. Thanks Rachel!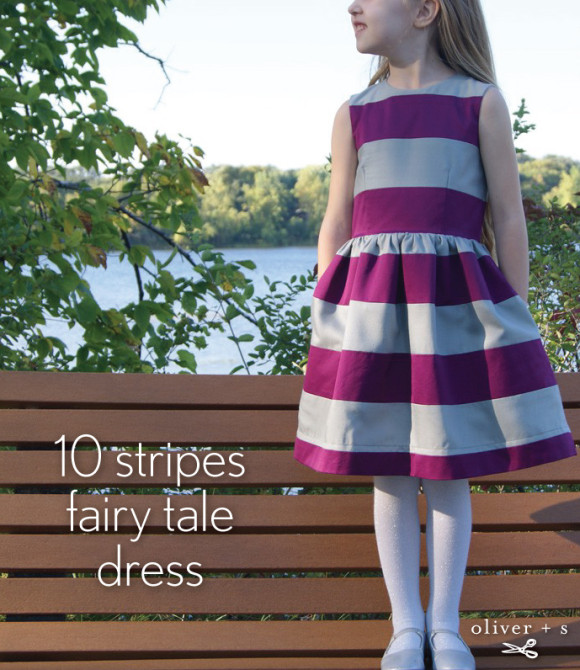 Hello, I'm Rachel and I'm excited to be here today. I have been sewing with Oliver + S patterns since the end of 2009. (You can see all of my Oliver + S sewing in my Oliver + S Flickr set.)
With all of the Oliver + S sewing I have done, the one sewing pattern that I have used the most is the Fairy Tale Dress. I thought I would offer some ideas and inspiration for it by sharing how I've customized it.
Here are my first nine in chronological order:
1) 'Purpledicular' was one where I used only the bodice pattern and I created my own striped fabric using a white sheet and purple fabric dye.
2) 'Gabriella Dress Knock-Off' features a few extra details of: bias trim on the peter pan collar as well as pleats, pockets and buttons on the front of the skirt.
3) 'Red Christmas' was one dress sewn up by the pattern with all its bells and whistles.
4) 'Easter Basket' has the addition of basket weaving around the waist as well as pleats in the front and Easter egg shaped inset pockets trimmed with mini pom pom trim.
5) 'Monet' used scenery fabric, my daughter calls this one her 'blurry dress'. A simple silhouette to show off the pretty fabric.
6) 'Red Poppy Field' is one where the waistline was raised and the neckline was widened, I was working with the print and needed to make those adjustments to get the look I wanted.
7) 'The Great British Sewing Bee' was inspired by the show, it is made in festive London striped fabric.
8) 'Belgian Style' was inspired by an Inge van den Broeck dress that turned out to have a rich color block look.
9) 'Pleated Blue Floral' has many pleats, on seam side pockets, cute grosgrain ribbon bow belt, and I added a v-neck back. My girl told me that this is one of her all time favorite dresses that I ever sewed her.
Now for my 10th Fairy Tale Dress I sewed up '10 Stripes' and decided to go with bold color blocks in smoke and eggplant cotton sateen. I was walking up and down the aisles at the fabric store and these colors caught my eye. And I had fun playing around with this new to me color combination. I think the rich colors are perfect for fall or winter, don't you think so, too? My inspiration came from the 'Carolyn' Stripe Fit and Flare Dress Kate Spade New York, there is a black and white version and a pink and orange version.
I wanted to show you just how easy it is to do bold color blocks in thick stripes by simply making your own striped fabric first, then cutting out the pattern pieces from that new striped fabric.
Just like the inspiration dress, I wanted four thick stripes across the bodice. So I measured the height of the Size 5 bodice and it is about 13 inches. In order to get four thick stripes on the bodice, that would make three inch thick stripes, and adding .5 inch seam allowance to the top and bottom of each stripe you need to cut out four inch strips. My tip is: be sure to cut the strips of fabric as straight as you can and also sew them together as straight as you can.
I sewed the strips of fabric together with .5 inch seam allowances alternating the eggplant and smoke colors, then pressed the seams open. By looking at the dress photo and seeing where I wanted the stripes to fall, I placed the pattern pieces accordingly and tried as best as I could to make sure the stripes would match up at the seams.
I added on-seam side pockets using the pocket pattern and instructions from the Playtime Dress. I also added a little bit of length to the skirt (maybe about an inch). If you would like to have a less obvious hem stitch showing, I would suggest a hand sewn blind hem or adjusting the hem to be able to stitch in the ditch (in between two stripes). If you don't want to add the on-seam side pockets, you could cut out the skirt in one continuous piece, that way you wouldn't have to worry about matching up any stripes at the side seams.
Just think of all the different color combinations you could do with this 10 Stripes dress. Isn't it amazing how the same sewing pattern can be used to create so many completely different looks? Now that's what I call versatility! Have fun sewing your next Fairy Tale Dress! And be sure to add it to the Oliver + S Patterns Flickr group.
Thanks so much for having me, Liesl.