When I'm designing a new style, I tend to get carried away. And over the last month, as I've been putting the finishing touches on two new patterns, I've maybe gone a bit overboard with capes. But is that so bad, really?
We're releasing our new cape pattern in a child-sized version, which we are calling the Forest Path Cape, and in an adult version, which we're calling the Woodland Stroll Cape.
Here's the story behind these designs. Almost a year ago, I came across a vintage cape. It was beautiful. It had delicate curves and a slightly unusual shape to it that I hadn't seen in another cape. Seeing this beautiful piece inspired me to try my hand at designing my own elegant cape.
As I got to work, creating a child-sized version of my perfect cape, I decided I wanted one for myself. And why not? It's a very quick and easy piece to sew, it really highlights a beautiful piece of wool or velveteen, it's an incredibly versatile wardrobe item, and because of the shape and silhouette there aren't the intimidating fit issues that so many women fear when sewing apparel for themselves. And so I made a pattern in both child and adult sizes.
You can make the capes in different fabrics, as we did above, or in matching fabric.
Both these styles are less big and "capey" than most other cape patterns. They are slightly more elegant and refined with their under-arm button and gentle, elegant curves.
Afraid of buttons and buttonholes? Not to worry. If you want, you can use snaps and sew buttons over the snaps to provide the same styling without having to cut buttonholes in that expensive piece of wool in your stash that you've been saving for just the right project.
The capes use the same construction method and follow, almost exactly, the same instructions. Both capes are fully lined. I prefer a silky, slippery fabric for the lining. Bemberg rayon is ideal because it's easy to work with and it allows the cape to flow over the garment worn underneath. If you prefer, though, you can use a lawn for the lining as well.
Because the cape is not a fitted piece on top, it's good for all body shapes and sizes. The children's cape comes in our usual 6M-4 and 5-12 Oliver + S size ranges. The women's cape comes in XS-XL sizes which correspond to sizes 0-16 in today's ready-to-wear sizing. When selecting the right size, focus on your hip measurement. Don't worry too much about bust or waist measurements. It's the hip that's key to determining correct sizing for this style.
As I've talked with people about this style, I've received a lot of questions about how to style a cape for women. To help, I started putting together a Pinterest board with some great cape styling ideas. You can check it out for inspiration. I also thought I would share a couple ways that I'm wearing two of my capes.
Here's a cape in a wool plaid dressed down for running errands in the neighborhood on the weekend.
The windowpane plaid wool that I used is rather dark, traditional, and somewhat formal (I'm a New Yorker and I dress the part!), so I've paired it with a pair of worn jeans, casual boots, and a bright yellow scarf to dress it down and add a pop of color. This is the same cape I'm wearing in the first photo in the post. You can see how the same item can go dressy or casual, depending on how you pair and accessorize it.
Here's another New York-style dark and serious cape all dressed up for a business meeting in midtown Manhattan. (Yes, I still have those every so often….)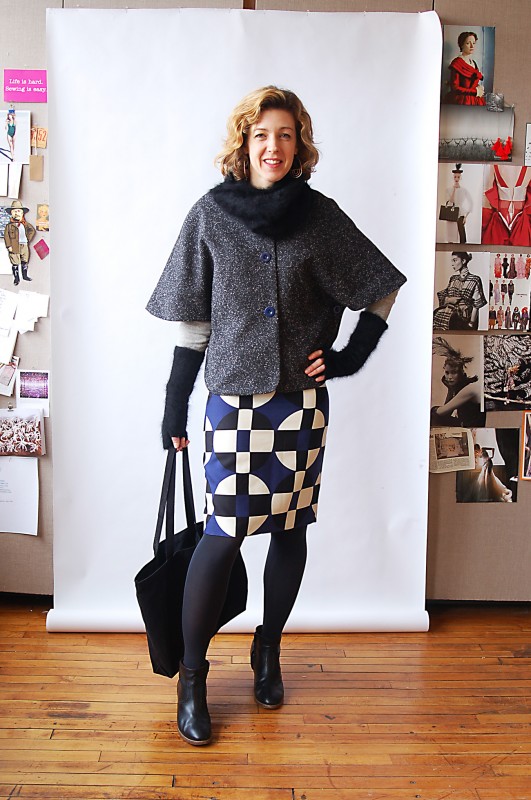 With a skirt, the cape can become more formal. It was cold the day I wore this, so I paired it with a fuzzy neck cowl and elbow-length fingerless gloves for warmth and a bit of texture.
Want some inspiration for sewing a cape in the child's size? Kristin, from Skirt As Top, has already sewn one up in a cheery blue wool for the Britex Fabrics blog. (You can find her original post on her blog, as well.) And I should mention that if you have trouble finding beautiful, high quality wool locally, Britex Fabrics has a wonderful selection of wools that you can shop online. (And I think they're even on sale right now!)
Whether for you or for a little one in your life, this cape is the perfect three-season cover up–providing enough warmth for chilly days and enough style for any event. I think you'll be surprised at how useful and versatile it is.
You can see more photos of these capes on the product pages for the Forest Path Cape and the Woodland Stroll Cape where you can also purchase the patterns.