measurement chart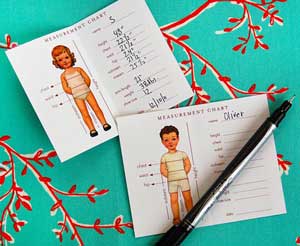 We created this cute little measurement chart as a holiday gift for our customers in 2011.
Technically, it's not a pattern. But we know how helpful it can be to have the measurements of your little one handy, so we've made this wallet-sized measurement chart available here for you to print out, trim down, and fold up.
When folded in half, it's the same size as a credit card, so it will fit neatly in your wallet and will be handy the next time you're shopping and can't recall the shoe size for your 2-year-old. Or when you're shopping for tights and need to know the height and weight of a certain 6-year-old.