bow hair tie free sewing pattern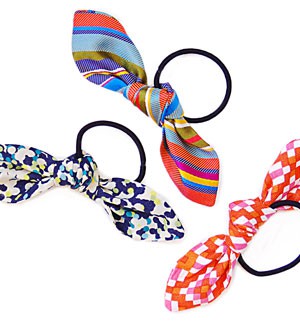 Here is a free sewing pattern for a really quick and easy project that uses only a couple of little fabric scraps. You know those Liberty of London bits that you've been saving for just the right project? This is that project: bow hair ties.
You'll need two 5" x 5" fabric scraps, thread, an elastic hair tie, and about five minutes, tops.
Make one to coordinate with each outfit, or make a set for a birthday gift. Or for an I-forgot-your-birthday-gift. Whatever works for you works for us.